Decarbonomics
TM

– the opportunity
The building sector has a pivotal role to play in creating the Net Zero communities of the future.
Watch the video
See how Decarbonomics™ can work for you, generate your own roadmap
Try it out
We make carbon visible
Decarbonomics™ enables you to simplify the complex and make carbon visible across your entire asset portfolio and any stage of your assets' life cycle.
Baseline and benchmark your estate – see where carbon emissions exist
We capture, structure, and manage your portfolio data to gain a deeper understanding of your properties, benchmark current performance and create a framework to maximise the value of your data.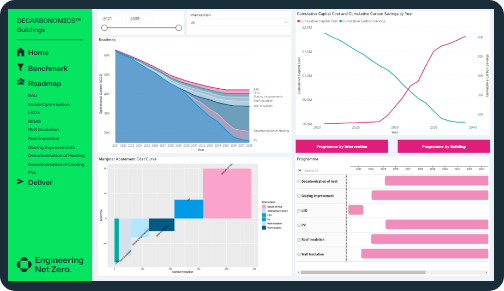 Evaluate interventions, scenario modelling and development of optimised decarbonisation roadmaps
We then analyse carbon, cost and engineering solutions to create enterprise level digital twins and use scenario testing augmented by Artificial Intelligence and Machine Learning to create bespoke roadmaps, for the most cost-effective and pragmatic implementation.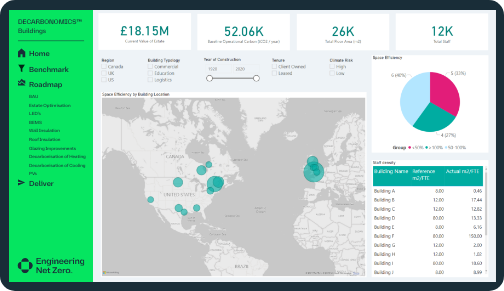 Create cost and programme optimised delivery plans for effective implementation. Track performance
Our industry-leading management teams ensure quantifiable decarbonisation interventions are delivered throughout the life cycle of your assets, providing real time views of your performance against plan.
Decarbonomics™ was awarded the 2022 Society of Digital Engineering (SDE) Award for
'Best Process and its Application' and Digital Champion 2022.
Judges from the Society of Digital Engineering commented:

Decarbonomics stood out to me immediately due to its application of digital technology to provide a truly comprehensive approach to understanding and reducing carbon in the built environment and enabling an evidence-based approach to whole-life carbon reduction. It shows the tangible benefits that a structured approach to data and digitisation can bring not just to process, but to society as a whole.
Stay up to date
Latest news, articles and insights