NET ZERO SUPERHEROES
N-Z0 IS ON A QUEST TO SAVE THE PLANET. USING HIS CARBON NEUTRALISING SNEAKERS, HE'S TRANSFORMING POLLUTION IN TO CLEAN ENERGY WITH EVERY STEP, WALKING A STEADY PATH TOWARDS NET ZERO. BUT HE NEEDS YOUR HELP.
Your mission, as a team or individual (Y5 or P6), is to propose and present a creative invention to help your school achieve Net Zero. This could relate to energy (think about how you could reduce the amount of energy your school uses or make the energy you do use greener) or transportation (think about how you could improve the way you get to school) or infrastructure (think about how you could improve your school building).
Along with an experienced mentor from Atkins, N-Z0 will provide you with the information you need to understand the challenges of achieving Net Zero. This will help to inform your solution.
THE 2023 COMPETITION IS NOW OVER – RESULTS COMING SOON!
If you would like to take part in next year's competition, please sign up using our 2023/2024 registration form.
Net Zero STEM Activities
If you've been unable to take part in this year's competition but would like to learn more about the other Engineering Net Zero STEM activities Atkins has to offer or would like to be contacted about future competitions, please also get in touch with us at: ENZSchools@atkinsglobal.com.
Read about our 2021/22 Net Zero Superheroes Competition
During our 2021/22 competition, Atkins successfully worked with 43 different schools (over 2000 school pupils in total). Over 200 entries were received from teams of up to 5 and finalists got the chance to present their ideas to the panels of judges.
Scotland/Northern Ireland Competition
The judging panel for our Scotland/Northern Ireland competition consisted of Ross Glendenning (Director, Atkins Transportation), Laura Paterson (People & Organisational Development Director, Net Zero Technology Centre), Steven Fraser (Practice Director, Atkins Transportation) and Vitor Magueijo (Teaching Fellow, Department of Chemical and Process Engineering, University of Strathclyde), and we were also joined by our client Alan Marshall (Transport Scotland).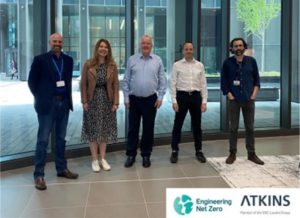 Individual Winner: Zach, St John's RC Primary School, Scotland
Idea: Zach designed 7 marker characters who all have different roles to all work together to meet Net Zero (Water, Wind, Engineer, Electric, Brainy, Heat and Nature) – came up with 3 ideas presented in poster format:
1. Using wasted heat from radiators to create electricity
2. Creating energy from the tarmac in the playground when it heats up in the sun
3. Use flushing toilets to spin a water turbine to create electricity
Prize: School trip to local Whitelee Wind Farm, where Zach's full class got a tour around the UK's largest onshore wind farm (540MW capacity), as well as a workshop on the topic of wind power and Net Zero.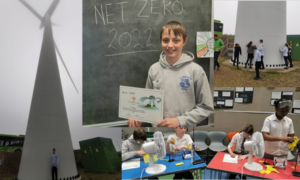 School Trip to Whitelee Wind Farm
Group Winner: Thea-Ellis, Isabella, Lola, Emily and Fraya, St Anne's Primary School, Northern Ireland
Idea: The team presented a PowerPoint titled "How we can reduce carbon" which was full of different ideas including growing their own food, turning off their lights, looking after the trees in their school, and taking greener modes of transport to school. The judges were particularly impressed by the pupils' preparation for the judging panel and answers they gave to the judges' questions.
Prize: School trip to local W5 Science Museum for the whole class
Spot Prize Winner: Morrison's Academy, Scotland
Prize: £200 Cash prize
England/Wales Competition
The judging panel consisted of James Holbrook (Environmental Compliance Manager, Hinkley Point C), Laura Finney (Innovation Lead, Innovate UK), Sarah Long (Strategy and Business Development Lead, Atkins Net Zero Energy Business) and Solmaz Parsa (Energy and CCUS Programme Manager, The Department for Business, Energy and Industrial Strategy (UK Government).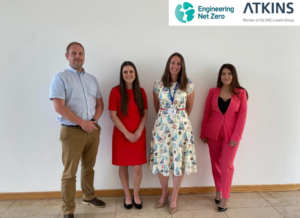 Individual Winner: Jacob, High Down Junior School, England
Idea: "The Super Roundabout" – converting kinetic energy from the roundabout into electricity
Prize: Jacob received a solar construction kit and a STEM related book of his choice. The school received a £350 Gift Voucher for local book shop 'Books on the Hill'. The school has used this gift voucher to purchase new STEM/Net Zero/sustainability related books for their school library.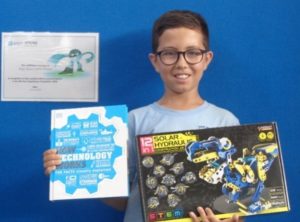 Jacob with Individual Prizes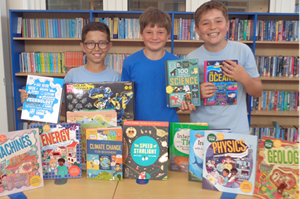 Jacob, Louis and William with School Library Books 
Group Winner: Poppy, Faith, Lilly & Isabella, High Littleton Primary School, England
Idea: "The Funnel" – a CCUS invention
Prize: The winning team members each received a £25 gift voucher for Rapanui Clothing which is a sustainable clothing brand based on the Isle of Wight powered by renewable energy. School received a £350 cash prize which will be used for improvements of the school's pond.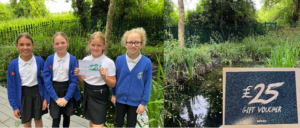 Poppy, Faith, Lilly & Isabella (left), School Pond (right)
Second Place: Victoria, Sean, Maiya & Lois, Upton Junior School, England
Idea: "Natural Multitasker" – a GPS robot which can plant and grow trees and make paper with fallen leaves
Prize: £300 Cash prize for sustainable school resources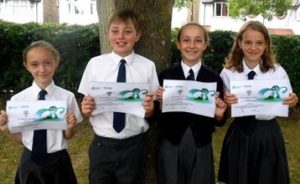 Victoria, Sean, Maiya & Lois with certificates
Spot Prize Winner: Elmlea Junior School, England
Prize: £200 Cash prize for sustainable school resources