NET ZERO SUPERHEROES
N-Z0 IS ON A QUEST TO SAVE THE PLANET. USING HIS CARBON NEUTRALISING SNEAKERS, HE'S TRANSFORMING POLLUTION IN TO CLEAN ENERGY WITH EVERY STEP, WALKING A STEADY PATH TOWARDS NET ZERO. BUT HE NEEDS YOUR HELP.
Your mission, as a school or individual (aged 7-14), is to propose and present an idea on how you can contribute to achieving Net Zero. This could relate to energy, recycling, sustainability, reducing emissions, or any other topic which contributes to the government target of Net Zero by 2050.
Along with an experienced mentor, N-Z0 will provide you with the information you need to understand the challenges of achieving Net Zero. This will help to inform your solution.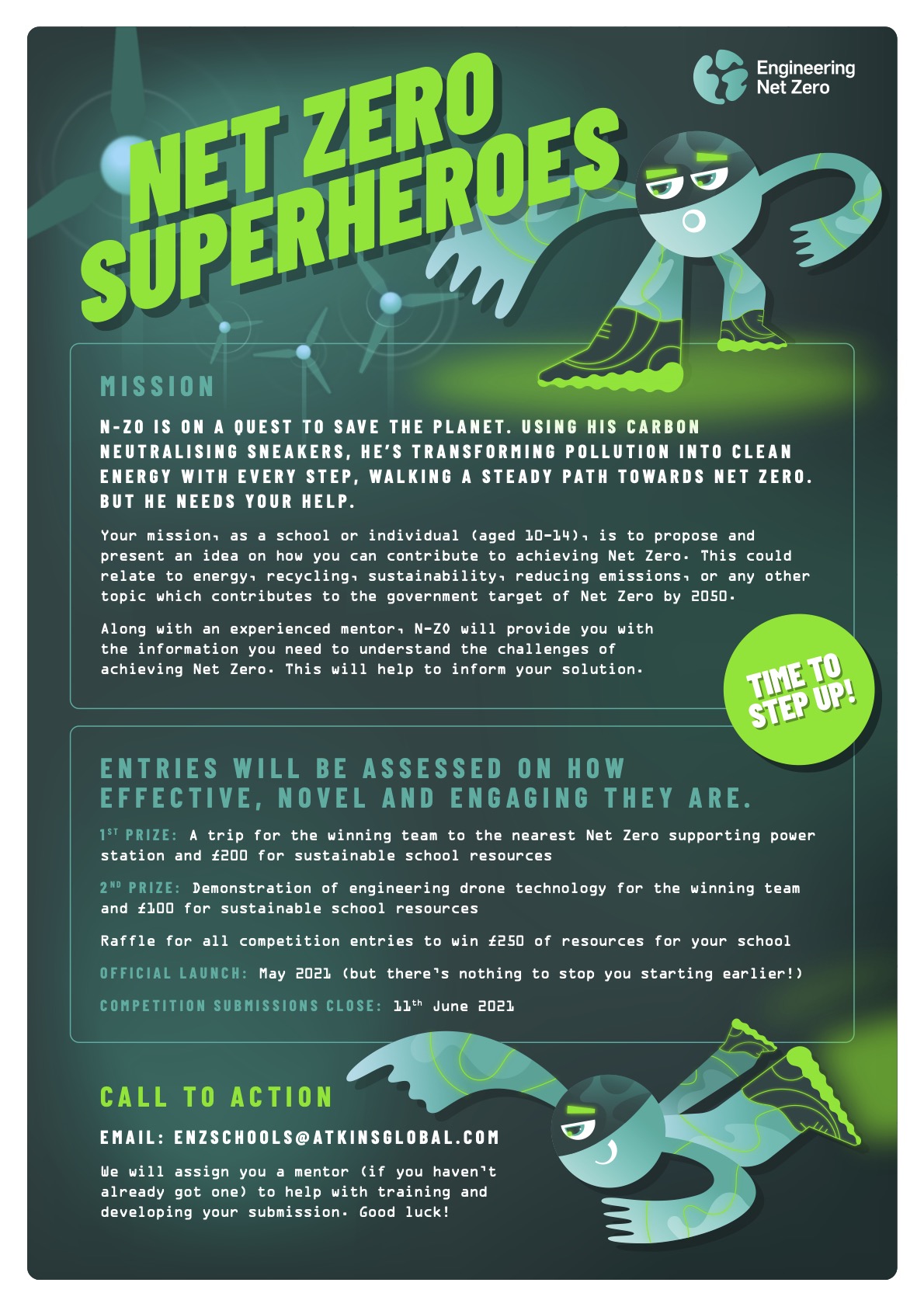 THE RESULTS
Mind-blowing, amazing and life-affirming were the words used by the judges to describe the submissions from the finalists of the Net Zero Superheroes competition.
The judging panel included Karen Hills, Head of Sustainability at Atkins/SNC-Lavalin, Odunola Akinmoladun, Graduate Engineer at Atkins/SNC-Lavalin and John Greaves, Technical Project Manager at Energy Systems Catapult.
130 entries were received from teams of up to 4 and on Friday 18th June finalists from primary and secondary schools presented their ideas to the panel of judges.
All the entries were really fantastic and the judges had a very hard time deciding who the winners should be. We received amazing posters and videos including models, animations, Lego and Minecraft constructions. The originality and inventiveness was incredible, though sometimes the feasibility scores were a little lower!
Three times more submissions were received from primary schools than secondary schools, and as such the prize awards have been adjusted to take account of this.
Primary schools (age 7-11)
Joint 1st place – Victoria Park – Team Bicycle 1000.  This team built a fantastic prototype of their pedal power idea for schools, linking fitness and Net Zero together and presenting their idea with great energy.
Joint 1st place – Bannockburn Primary School – Team Elder 1. This team developed an innovative and creative solution for a naturistic classroom with a glass dome using solar energy.
Individual Award – Elmlea School – Rosie developed a super scientific idea for a Carbon Consumer unit for carbon capture on every house and backed it up with some great research.
Secondary schools (age 11-14)
1st place – Whitehaven Academy – This team presented a poster showcasing a Minecraft model of their new school premises with lots of low carbon features.
Raffle Prize
Heatherly School
Other schools with Highly Commended submissions:
Farrington Gurney Primary
Clober Primary
Filton Avenue Primary
Heatherley Primary
Westhill Primary
Cloverlea Primary
High Down Juniors
Sheldon School
Redland Green School
Ashlyns School
Our Lady's Chesham Bois
We will be in touch with all schools to arrange prizes and certificates.
Any questions, or to get involved next year, please contact ENZSchools@atkinsglobal.com