The role of transport in Net Zero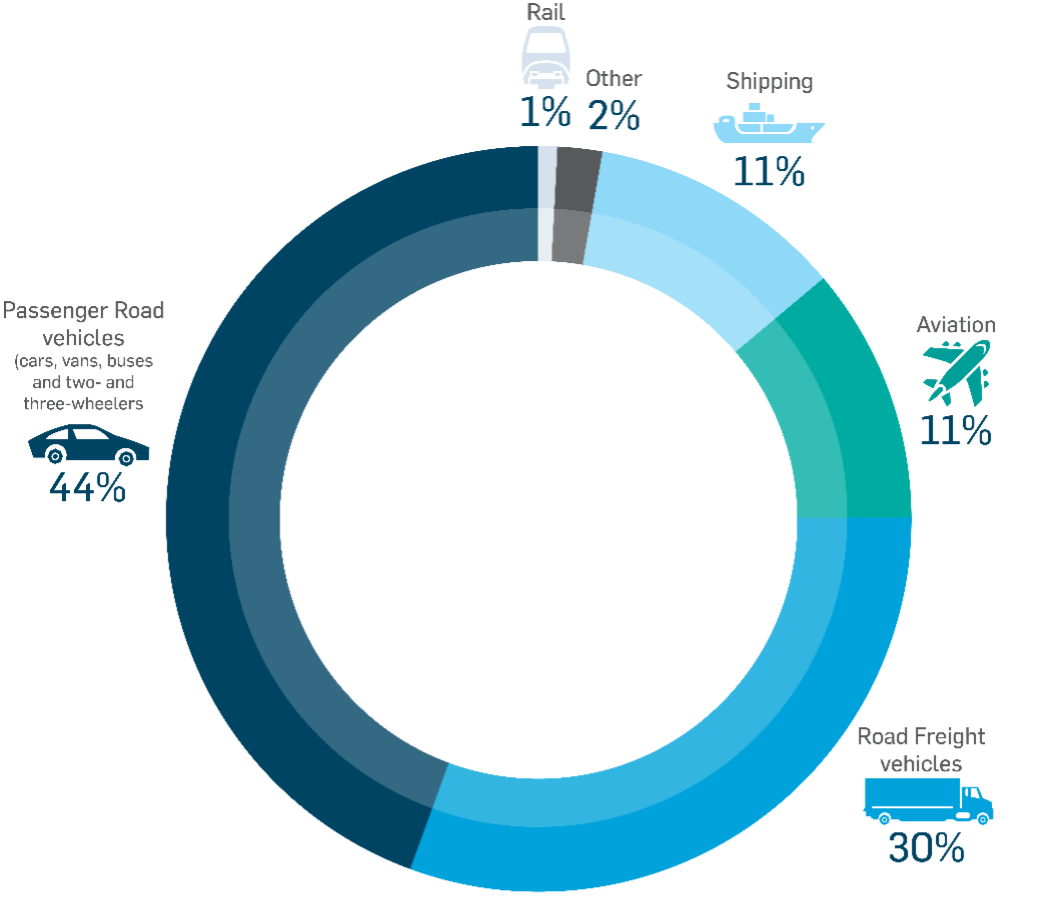 To date, we have offset the progress made in decarbonising vehicle operation by growth in travel demand and average vehicle size, limiting our overall progress. The scale of the challenge facing transport means that the industry must plan to eliminate greenhouse gas emissions wherever possible and not just reduce them through marginal improvements. There are limits to the potential for emissions removals processes, such as Carbon Capture and Storage (CCS) or carbon offsetting initiatives.
There is a need to drive transport decarbonisation through two areas of change:
Behavioural change to reduce demand and alter how we travel and move freight; and
Innovation and technological change to deliver zero-carbon vehicles, lorries and trains and the associated infrastructure required to power them.
To support a reduction in travel demand there is a need to look at transport infrastructure to make connectivity between different modes of transport simple and more convenient for users. We make many short vehicle journeys out of convenience or because the supporting infrastructure to enable us to use alternative modes of transportation such as cycling, walking or buses, is often inconvenient.
While road and rail play a key part in the movement of people and freight, many see the road as the default option because the alternatives aren't readily available.
Not fully considering the impact of carbon from large infrastructure projects increases the risk of additional scrutiny and challenge. Recent examples include the legal challenges to the third runway at Heathrow and Highways England's Road Investment Strategy (RIS2).
These examples highlight the importance of ensuring that plans for developing transport solutions consider the potential impact on carbon emissions and the environment and contain appropriate mitigations.
As highlighted by Climate Change Committee (CCC), changing our approach and taking action in the coming decade to 2030 is critical. So that we can ensure we can limit the impending climate and environmental emergency we face and avoid the worst of the potential ecological, social and economic consequences.
Balancing Technology and Behaviours
While technology can support our aim of achieving rapid decarbonisation, the pace of change isn't fast enough to address the scale of the challenge we face.
New technologies, including CCS, will support and enable our progress towards achieving our Net Zero ambition. But, a behavioural shift and the adoption of the alternative technologies we develop must accompany this.
In its sixth carbon budget, outlining the UK's path to Net Zero, the CCC pathway for transport also highlights the need to reduce our travel quickly.
For car travel, this requires a 9% reduction in miles by 2035; in addition to other measures, this must reach 17% by 2050; to achieve an 81MtCO2e (Metric tonnes of carbon dioxide equivalent) reduction against 2019 levels by 2035.
If we develop the right places and transport systems, then as a society we all have a role to play in supporting these reductions through changes in our decisions to travel and by questioning our motives, reasons and decisions when undertaking journeys and our choice of mode.
The Future
We must strike a balance in ensuring we meet our Net Zero objectives. This balance requires making societal choices, changing our behaviours, and how we individually and collectively approach the future.
There are significant political, policy, and technical challenges to address. National governments and organisations can help set the direction of achieving Net-Zero. But, manufacturers, suppliers and individuals will all influence the outcomes through the choices we make about how we move toward tackling climate change and must be a part of the debate.
Through connecting with transport users, gaining insights into and influencing their behaviours, we create a beneficial transport system.
Government's will also need to invest in developing our cities, enabling us to re-imagine connectivity between places and transport. We must make them more accessible to deliver greener public spaces, new buses, trams and rail solutions by establishing the right policy frameworks and incentivising good behaviours and disincentivising bad ones.
To succeed, we must plan how we embed alternative fuels, energy systems and energy distribution to support the changes to modes of travel. We also need to design better transport systems that put connectivity to place at their centre and enable us to develop low and zero-carbon transport by making it easier to use.
Travel demand management can no longer focus on peaks, events, or closures to the transport network. Travel demand management tools must harness data better, providing real-time, accessible, responsive and personalised travel which not only 'reduces', 're-routes', 're-times' and 're-modes' journey decision making, but 're-educates' and 're-thinks' end to end journeys.
Incentivisation must also play a role in shifting behaviours and the development of low emission solutions.
The transport industry must help create change and ensure it sticks by providing incentives to influence the uptake of greener transport solutions and discourage people from using more polluting modes of transport, much like the ban on petrol and diesel vehicles.
Likewise, we must look at how we reward and encourage the industry to develop low-carbon solutions efficiently. Be it through tax incentives, funding R&D investment, setting regulatory or legal guidelines and restrictions, or public finance.
We need to support the right behaviours, approaches and tools to ensure that builders, manufacturers, consumers and the supply chain can invest in and adopt more carbon-friendly solutions.
To deliver our Net Zero ambition, we will need to mobilise climate finance to help develop plans, strategies, and alternative fuel systems. Sources of renewable energy will require considerable investment. We must also appreciate that we cannot meet existing demand through renewable energy supplies alone; it will also need us to change our travel behaviours.